Prof. Uwe A. Schneider, Ph.D.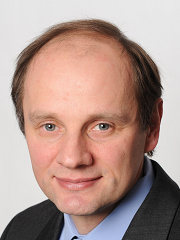 Co-Chair
Group Leader Agricultural and Resource Economics
Address
Universität Hamburg
Faculty of Mathematics, Informatics and Natural Sciences
Department of Earth System Sciences
Sustainability and Global Change
Grindelberg 5
20144 Hamburg
Office
GB 5
Room: R203
Contact
Short Biography
Prof. Dr. Uwe A. Schneider is an agricultural and resource economist with a strong background in agricultural science. His research interests relate to land use externalities regarding climate, water, soils, and nature reserves; impacts of land scarcity on food, biomass, timber, and species protection potentials; and market and welfare effects of environmental policies related to land use.
Uwe has a long expertise in mathematical programming with General Algebraic Modelling System (GAMS) and developed, coordinated, and supervised several large-scale optimization models of various scopes in the realm of agriculture, forestry, bioenergy, and fisheries.
Uwe grew up on a farm in a small village in the Eastern Ore Mountains about 20 km south of Dresden. After his high school education and the mandatory military service, he briefly worked for large farm cooperatives in East Germany. He then studied crop husbandry at Humboldt University, Berlin. In 1994, he went to College Station to study plant breeding and genetics at Texas A&M University. Within the first two weeks, he switched to Agricultural Economics. While pursuing a Master's Degree at TAMU, he began to be interested in integrated forest and agricultural sector analysis. He added a comprehensive greenhouse gas emission module to the US agricultural sector model. The application of the new Agricultural Sector and Mitigation of Greenhouse Gas (ASMGHG) model to study important policy questions resulted in his dissertation and several follow-up publications.
Since 2002, Uwe works at Hamburg University where he teaches courses on mathematical programming, dynamic optimization, agriculture and environment, GAMS, and the forest and agricultural sector modeling. He is the principle developer of several land use optimization models and most of his current research uses these models or contributes to their development. Uwe was a contributing author to the IPCC's fourth assessment report. He serves as regular reviewer for a wide variety of academic journals and research funding proposals and he is actively engaged in graduate education programs, i.e. the International Max-Planck Research School on Earth system Modeling and the School of Integrated Climate System Science.
Education
Ph.D. in Agricultural Economics (2000)
Department of Agricultural Economics Texas A&M University, College Station, TX Specializations: resource economics, mitigation of climate change Dissertation Title: "Agricultural Sector Analysis on Greenhouse Gas Emission Mitigation in the U.S." Advisors: Dr. Bruce A. McCarl (Chair), Dr. James M. Mjelde, Dr. Ronald C. Griffin, Dr. Thomas W. Boutton
Dipl-Ing. Agr. in Soil and Crop Science (1996)
Faculty of Horticultural and Agricultural Science
Humboldt University, Berlin, Germany
Advisor: Prof. Dr. sc. Frank Pohlheim
Thesis title: "Quantitative analysis of intra-individual tissue competition at various stages of cell differentiation" German
M.S. in Agricultural Economics (1995)
Department of Agricultural Economics
Texas A&M University, College Station, TX
Advisors: Dr. Bruce A. McCarl (Chair), Dr. Thomas Knight, Dr. Frederick W. Plapp
Project title: "Economic Implications of the Boll Weevil Eradication"
Vordiplom in Agriculture (1991)
Faculty of Horticultural and Agricultural Science
Humboldt University, Berlin, Germany
Advisor: Dr. Dirk Freese
Project title: "Capacity limits of phosphate absorption in soils" (in German)
Affiliations
University of Hamburg
Research Unit Sustainability and Global Change Departments of Geosciences and Economics Center for Earth System Research and SustainabilityHamburg, Germany Professor (December 2013 - present)
Clisap Principle Investigator (February 2013 - present)
Group Leader Agricultural Economics and Resource Management (October 2005 - present)
Co-Chair (September 2010 - present)
Interim Professor (October 2008 - September 2010)
Acting Director (September 2005 - February 2006, July 2006 - September 2010)
Assistant Professor (October 2002 - September 2008)
University of Natural Resources and Applied Life Sciences Vienna, Austria
Visiting Professor (WS 2009/2010, SS 2013)
International Max Planck Research School for Maritime Affairs Hamburg, Germany
Member of Board of Directors (February 2006 - March 2014)
International Max-Planck Research School for Earth System Modeling Hamburg, Germany
Member of Executive Committee (December 2005 - present)
International Institute for Applied Systems Analysis (IIASA)
Forestry Program Laxenburg, Austria Research Associate (January 2004 - December 2004)
Iowa State University Center for Agricultural and Rural Development Ames, IA, USA
Post Doctoral Research Associate (March 1996 - June 2000)
Texas A&M University
Department of Agricultural Economics College Station, TX, USA
Research Associate (September 1998 - May 2000)
Research Assistant (September 1997 - August 1998)
Teaching Assistant (September 1996 - August 1997)
Graduate Student (September 1996 - May 2000)
Humboldt University of Berlin Faculty of Horticultural and Agricultural Science Humboldt University, Berlin, Germany
Graduate Student (September 1991 - August 1994, September 1995 - April 1996)
Undergraduate Student (September 1989 - August 1991)
Publications
Peer Reviewed Journal Articles
Book Chapters
Other Work
Conference Papers and Proceedings
Theses
Working Papers